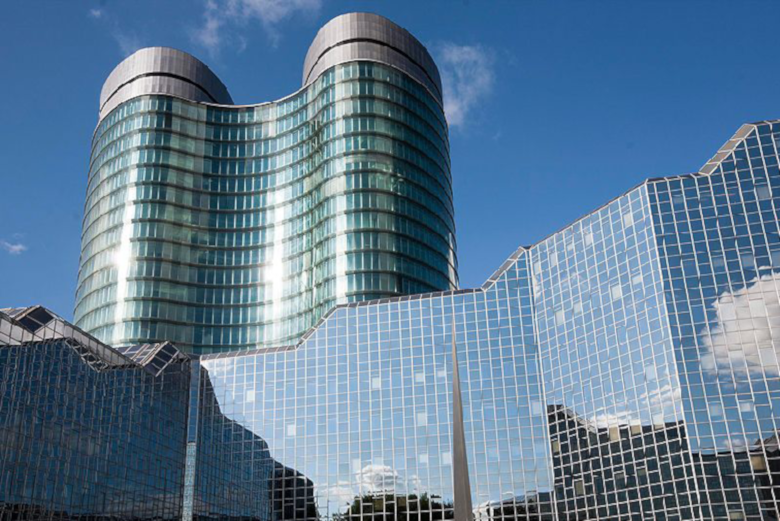 In June 2011, the new building of Rabobank Nederland was opened in Utrecht. The building was designed by Kraaijvanger Urbis Architects in Rotterdam. The building has a capacity of approximately 56,000 m², of which 40,000 m² are housed in a 25-storey tower ('De Verrekijker') and 16,000 m² in the baseboard of the building ('The Plaza'). In order not to hurt the feelings of people living in Utrecht, the building is just a little bit lower than the typical Domtoren in the inner city.
Glass
A lot of glass is used in the building. Not only the ca. 20,000 m² facade of the tower, but also inside the building in walls of meeting rooms and 'cockpits'. The tower is built according to the principle of the second skin facade. The inner pouch consists of a sun-resistant HR ++ glazing in aluminium frames. The outer window consists of a single laminated glazing. In the space between the glazing (the cavity) a sun blind is fitted. The sun blind also serves to repel light. For the heat sink in summer, the cavity is naturally ventilated through openings beneath and above the outside window. The outside windows slope slightly backwards, creating a wedge-shaped opening between the windows. This construction ensures that despite the almost complete glass façade, less than 10% of the solar heat is passed.
Extensive research
Interesting in this project is that almost all disciplines we have in-house have been consulted. From thermal insulation and wind climate studies to climate chamber measurements and rain density tests. The impact of the project on air quality has been investigated. The tower has been tested on dynamic wind forces for the supporting structure as a whole and for the individual glass elements of the facade and the green roof of the plaza in particular.
Potential short-circuit effects related to the ventilation air were investigated. Tests in the acoustic lab have been performed on sound absorption of ceiling systems and possible sound production of the slots in the facade glazing. The built-in NSA's are housed in a box-in-box construction to achieve adequate sound insulation. Almost nothing in the building is right. During construction, vibrations have been monitored and we conducted various sound measurements.
Het Nieuwe Werken
Characteristic of the project is the embrace of 'Het Nieuwe Werken'. This workplace concept has been developed in collaboration with Veldhoen & Company and implies that no individual closed office cells are used but predominantly open offices. On each floor of the tower are some meeting rooms and several smaller office rooms designed for concentration work. These small office rooms are not on the facade, which emphasizes the function of temporary workplace.
Client
Rabobank Nederland